Production Sentry Software is a perfect compliment to the Doran 2200CW check weighing scale with Ethernet option. Management at production factilities now has complete control over the production floor as well as detail reporting and analytics on the performance of specific production lines, products and employees.


The shipment of underweights and overweights can cost companies money. The shipment of too many underweights can result in rejection of shipments, fines, and damaged customer loyalty. In an effort to satisfy the customer and avoid underweights, employees are encouraged to err torwards the heavier side, wich over time results in massive product giveway! Profits are lost as product is given away for free.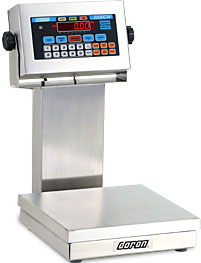 This is where
Production Sentry Software from Doran Scales
comes into play. The software helps you control production. Employees will not have access to any of the buttons or scale functions. Management will now have control of all scale parameters and activity on the production floor. Reports can be generated to manage the production and business.
If a LOT ID needs to be recalled, it can be done in seconds rather than hours since all the data is stored in an easily searchable database instead of piles of handwritten notes and reports.
Since employees log into their scale, key performance metrics are readily available for every employee. This aids management in rewarding high performers as well as taking corrective action where needed.
If this sounds interesting to you, please contact the sales team at
Central Carolina Scale
for a quote on Doran 2200 CW check weigher scales with optional ethernet and the computer software package mentioned above.